Welcome to 5th Grade! I am thrilled to have you in my class this year! I know this year is going to look and feel different because we are doing distance learning, but know I am always here to listen to your concerns, answer your questions, and celebrate your accomplishments!
August 10th and 11th: Chromebook pick up
If you are in need of a chrome book, you may come to the campus on the 10th and 11th to receive your chrome book.
August 10th 9am-11am in front of the school
August 11th 3pm-5pm in front of the school
August 10th: First Teacher Email
On August 10th, you will receive an email from me with some information about myself and the first week of school. This email will also contain the Zoom Link for the first whole class zoom. Be on the look out! If you do not receive the email by noon of 8/10, please call the office to notify us.
August 12th @ 8:30am: First Whole Class Zoom!
I am excited to announce our first whole class Zoom meeting on August 12th! We will be kicking off this school year at 8:30am. This will be a meet and greet. We will also learn about some class procedures and how this year will look. The meeting information and password will be emailed to you.
August 12th-14th: Teacher Meet & Greet Appointments!
The first week of school will much look different this year. The first week, teachers will host a 10-15 minute meeting with all parents and students via Zoom. I have set up a Sign Up Genius for you to sign up for a meet and greet with me! Please click on the SignUp Genius logo below to sign up for a time that works best for you.
*Please note that when it's your scheduled time to meet with me via Zoom, you will automatically be placed into a waiting room. I will let you in to the Zoom meeting at your scheduled time.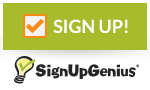 August 18th- 11:30am-1:30pm: 5th Grade Material Pick Up
Tuesday, 8/18 is the designated day that you will pick up your textbooks at school and meet me!!
Parents will pull up to Location 1
directly in front of the tables. Then, open your trunk and a staff member will place curriculum materials inside of the trunk. We ask that parents and students follow social distancing guidelines and remain in their car at all times.
Parent Survey
A Parent Survey will help me get to know our students.
Please take a second to fill out the google form by clicking the link ==> Parent Survey

Canvas Instructional Video and Practice
1. Watch the Canvas Instructional Videos by clicking the links below
2. Get to know Canvas!! Have your student log into Clever > Canvas > Log in with Google > Homeroom. Start exploring your Canvas page and getting familiar with the look of our virtual classroom.
Clever Login Information:
gradyear initials last four of id (lunch) number @norris.k12.ca.us
Example:
Jane Doe
ID number: 12345
Grad year (your student will graduate this year): 24
Distance learning will look different this year than it did last year. We are excited to be using Canvas. Canvas will enhance our distance learning and provide a way for teachers, parents, and students stay connected and thrive during distance learning!
Here's to a FABULOUS 5TH GRADE year, full of learning and fun!